Destination Imagination is Going to Globals!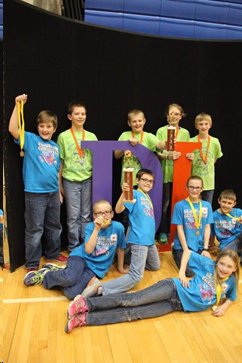 We're Going to Globals !
Two 5th grade teams, Clash of Creativity (Sam Bennett, Creighton Orchard, Ayva Swift, Caleb Dunster, Makaiya Baehr, and Logan Johnson) as well as The Brainy Bunch (Cody Damme, Katelyn Smith, Jase Voorhees, Kaida Swanson, and Jackson Nordhues), have earned the right to compete in Destination Imagination's Global Finals. This is the world's largest celebration of student creativity for teams that have achieved honors in regional and state academic tournaments. The Global Finals will be held at the University of Tennessee in Knoxville, Tennessee on May 25-28.
The Brainy Bunch will compete in the Structural Challenge while the Clash of Creativity will participate in the Technical Challenge. These open-ended challenges require students to apply science, technology, engineering, and math (STEM) skills. In addition, the teams use their talents in improvisation, theater arts, writing, project management, communication, innovation, teamwork, community service, and social entrepreneurship. Our two teams are among more than 8,000 students representing more than 1,400 teams that will advance to Global Finals.
Each year, DI competitions begin with a regional tournament, where team solutions are assessed by a panel of trained appraisers, ranging from educators to artists to engineers. Each team solution is scored on a variety of elements, including originality, workmanship, presentation and teamwork. Teams with the highest scores (both teams placed 2nd) advance to the Affiliate (state or country) tournaments where the Syracuse teams placed 1st in the Technical challenge, and 2nd in the Structural Challenge. The top-tiered teams from the Affiliate tournaments advance to Global Finals.
Please consider supporting Syracuse Middle School Destination Imagination Teams trip to Global Finals. We will be posting information on our fundraising efforts on our Facebook page www.facebook.com/syracusenedi. This is an extraordinary opportunity for this group of young people. !! Please share our Facebook page to increase awareness of our efforts. If you would like to make a donation or help with a fundraiser, please message Crystal Fox Bennett or Sherlyn Ehmen Damme.
For more information about Global Finals, visit http://globalfinals.org/.